GotPoetry.com Poet of the MOnth 2011
From Poetry Wiki
We run contests of varying complexity and success. Currently we are running themed monthly contests from the Page Slam Section [1]. We call these Poets of the Month. You can also check out our Previous Winners of [2], [3], [4] and [5]

POET OF THE MONTH - JUNE 2011 - WON BY WYLDE [6]
My Business Profille: [7]
POET OF THE MONTH - MAY 2011 - WON BY LIONHEART [8]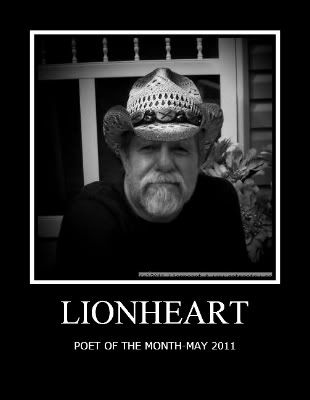 NAME : DAVE

If life were simple, I could simply write and be content. If the world was full of only beauty, my art would not be a struggle. As a writer and artist I find that I am constantly amazed, bombarded and torn by life itself. The conflict between opposites (good & evil, love & hate, etc.), and my insatiable desire as a human to gain understanding and purpose in life drives me at times to embrace the world, and at times to be repulsed by it. And so it goes, I write and paint about my experiences in life. Like most people I search for truth in things, but truth is all too often an enigma.
My hobbies include reading, writing, poetry, and the arts. I paint oil and acrylic landscapes, wildlife and some portraits. Lately I've been attempting abstract which is not as easy as it looks. I live in picturesque Muskoka which offers endless inspiration for writing and painting. I'm also involved in an arts café called The Door, which features artists, song writers and poets. We meet once a month for about three hours and roughly seventy to ninety people show up to experience the event.
POET OF THE MONTH - APRIL 2011 - WON BY WYLDE [9]

I'm 54, South African with three daughters – Kana Crystal; Sacha Kerry; Amber Coral – all from my first marriage. I'm currently married to Shalane, a lady of Tamil Hindu origin and ecstatically happy and at peace (largely) for the 1st time in my life. Shalane was at my side when I suffered a major heart attack which lasted for over 4 days and resulted in triple-bypass heart surgery some 14 months ago – and has never stopped working towards helping me along the road of recovery since.
I'm from a very humble and poor background including growing up with a chronically alcoholic father, unable to afford (but wanting) a university education after school (by that time my father had died and I left home to care for myself at the age of 17) and later drafted into the apartheid's infantry battalions to face the Soweto riots of 1976 and also the horrors of the Angolan civil war, where the apartheid forces, backed by Reagan faced off against the local FNLA and MPLA forces backed by the Cubans and Russians. Through all of this I have managed to build up and acquire some significant, but in global terms perhaps modest, level of wealth. I am a business owner, self taught industrial chemist and employer of some 30 people.
Part of having 'succeeded' to such a position has largely been not to follow conventional thinking or principles. Other than having a passion and a loving for what I did and do, I often followed the laws of physics in doing business. Newtonian laws, the laws of Einstein and more latterly, Quantum Physics, which I incidentally believe don't contradict but rather compliment each other. As one example, each and every one of my employees, or as I prefer to call staff, know that the first basic credo is: HATE THE CUSTOMER – THEY ARE NEVER RIGHT! Besides being true, this works to Newton's law of – for every action there is an equal and opposite re-action. In other words, our customers respond by loving us. Seriously.
Also very important to me is, applying the African credo of philosophy "ubuntu". Living in a country ravaged with an unemployment rate well above 40% and with a similar percentage of the population hiv/aids positive (over the last few years 8 of my staff have eventually died) it really does soften and enhance ones perception of life, its experiences and others. I would sincerely encourage you (and perhaps others) to read a little about it. Here's a wiki reference: en.wikipedia.org/wiki/...hilosophy)
Just to extract some essential aspects of this, for those who don't wish to read up on it:
Ubuntu: "I am what I am because of who we all are."
When you got into writing:

Since a young boy, I seem to have spent most of my time within, inside my head, my mind. I recall collating a collection of scribbled poems into an exercise book when I was 12 and haven't stopped writing since, except for a dry spell of 5 years during the 1980's.

What inspires you to write:
The cathartic nature of writing. Things like, very especially, van Gogh's other ear. Artists like Jackson Pollock. Dali. Jim Morrison. Nijinsky. Leonard Cohen. Edith Piaff. Bessie smith. Heather nova. Lou reed. Pink Floyd.
My writing is essential in contributing to my personal understanding – at various times and various moments – to my own experience, of this thing called living, and life.
Through my expression i explore the relative nature, of (my) absolute truths. its about defining and understanding ones perceptions, gaining insight into ones own truths. deciphering and understanding my internal narrative. and through understanding that incessant silent internal dialogue one has with self; and then being enabled and empowered to change the script.
Your favourite poets and favourite poets on gp:

Favourite poets – Dylan; Bukowski; the beats poets. My daughter, Amber. Favourite gp poets – lash570 [10]; electrictiger [11]; judih [12]; fogglethorpe [13]; mamta (sincerely); FrauleinK [14]; FuchsiaFestival! [15]; tony [16] and angels [17].
your favorite poems

one of my own and one from my daughter, amber: .
my mind stood up [without much aplomb]
fleetingly foraging upon frayed tattered pieces of a disconcerted ragamuffin subspecies my mind stood up [without much aplomb] shouting down my esophagus like a mini atomised bomb combing my hair with broken teeth of despair i sat down looking up curled up under my chair and as my abscessed truth festered while lying in that lair my gums gave birth to the fundamental tooth of one molar ejected never equals quantum sums of an incisor dejected [or dethroned] let alone a limpid shadow with half caste lures sinkered and swallowed deboned being the all time seismic forensic cure for the malaise of puffins exhaling life so cruel and yet so pure .
By amber:
contract:
the air is cold and biting, it has the feeling of a day off near its end. the moon beams gleam behind clouds that not long ago spoke of rain, it gleams in silent pride, an unsung apology rings from its eminence. lets move on, it says, its over, lets not speak of such things. MEANWHILE in the heavenly realm of earth below the jasmines bloom quietly whispering promises of spring, lapping at the tips of the hair that wears them with its subtle intoxication of its scent, seducing the senses. broken clouds seem on the verge of descending from the sky in order to swallow this earth below, but INSTEAD they split and part to reveal that the gods have blown a ring of substantial contradictory haze in their last act of madness, perfect circle, not a stitch, string or plume out of place. their mother seamstress must have been by, for some reason this act seems to be of her instruction, it pulsates of their mad perfection and her motley genius. we all KNOW how to lift our eyes from their couched stupor and how to probe this act of god. this miracle.calculate it. analyze it.study and philosophise it.readjust the lens of our brains and challenge it. what could it mean??a girl LOOKS up and doesnt want to know nor needs to, for the magic of this madness is enticing and intrigues her runaway mind of dreams. a wind quietly skulks behind her and begins to whisper…"it is but a contract signed"…. the girl stares at the sky in silence… the wind continues to whisper.. "it is a contract for the rains abstinence. it has now abdicated a piece of its being by approving of this perfection. so let us look little girl and know of its sacrifice in the name of madness. let us look and not speak of such things". .the girl closes her eyes.
hobbies:

mindtrawling

POET OF THE MONTH - MARCH 2011 - WON BY LIARBIRD [18]

I am an Australian who worked in the dairy industry for more than thirty years but now I am on a disability pension. At this time I live in Red Cliffs in the Sunraysia district on Northern Victoria but in the next weeks I will be moving to Longwarry in West Gippsland on the eastern side of Melbourne. I am married to Joy, and we have three children, and also five grand children.
I have been writing for about eighteen years now and have quite a collection of poetry, lyrics, scripts, short stories, and novel length manuscripts, mostly with a humorous twist in them. Having concentrated predominantly on writing humorous story telling poetry, I have been invited to recite at many venues and for many organizations in the Sunraysia district. The highlight for many poets in this area comes in late September with holding of a ten day country music festival. I along with a number of other poets recite to audiences of up to six hundred listeners beginning at 8 am in the morning and finishing at 10 am. With continual requests for CD's and books, I succumbed and have now five CD's available and twenty, forty-eight page booklets that I sell at venues where I recite. A number of FM radio stations throughout Australia have also played my poetry.

Finally I'd like to thank the organizers of Gotpoetry for the time and effort put into providing us poets the opportunity to express ourselves in all our different genres. Without this opportunity, not only would our poems not be read, but also, so many friendships through our poetry would never have occurred.

POET OF THE MONTH - FEBRUARY 2011 - WON BY ASTANIGA

NAME - KARISHMA AGRAWAL [19]
DOB - 14th APRIL
LOCATION - INDIA

I am currently pursuing my bachelors of technology in computer engineering. I started writing to let go of frustration and anger. But this site, this family has helped me grow and mature into someone who can now write for fun, on topics not really related to me. The people I met here the friends i made are now a huge part in my life. the support, knowledge and what not shared here is something everyone on the site is and always be proud of.
I cant really think of anything else to say except THANK YOU ALL for the love support and this win.
I'm a Minnesota native, suffering the purple's losses all my life. I currently live in Colorado, and for a day job I'm a purchasing agent/estimator for a residential home builder. I'm closer to 60 than I want to admit most times. I'm a lifetime member of GP. I joined January of 2009. I dream of visiting the beaches of the world that I have not yet seen, and writing about those experiences. I've been accused of being an 'incurable' romantic. All I can say in response to that, 'guilty as charged'.
I've enjoyed writing since I was a wee one. But I have no record of any of my work until 20 years ago. That's when I started writing love/romance poetry. But I again quit until just before I joined GP. Now it's my life. I write almost every day.
I do not have any 'greats' deceased or alive that I follow. The only poetry I do read is usually posted here or on one other web site that I frequent. Its funny, even what I write I read later and often think 'I wonder where that came from?'
I think my favorite write for me is 'Stairway to Heaven'. I like mixing fact, fantasy and fiction. Sometimes I will push the edges of erotic, but I hate vulgarity in poetry and will usually avoid it.
Until recently, I always used a similar rhyming style to write with a varying meter. I once replied when asked why; 'I'm basically lazy. Once I learn a style I stick with it because it's easy.' But I've now taken a fancy to a couple new styles, including Haiku. No doubt I'll add more as I mature in this medium.
When I first started here, I spent quite a bit of time in the workshops. I want to thank the GP staff and John for providing this venue. I also want to thank the many poets who are engaged here. They've all helped me improve my skills. And thicken my hide. ;-)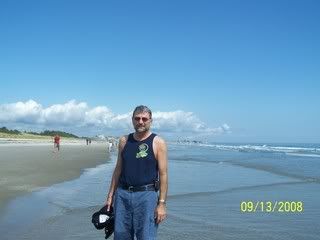 My grandson and granddaughter are a second opportunity for me to enjoy kids. I had little opportunity or desire to raise their dad, who's now in his 30's. Its funny how things change. The son I ran out on at the age of four now calls me at least five times a week, sometimes five times a day. He never hangs up without telling me, 'I love you dad'.
If you live long enough, the miracles do happen.
Kevin [20]